Not one, Not two but THREE COMPANIES have come together to bring you a fantastic collection of images, sentiments and even matching embellishments to get your creative minds flowing with ideas!
WHO ARE THEY??
If you have been following the lead up to our big release then you may have taken a stab at guessing who we are.
If you guessed...
Then you are correct!! Woot!
Now as you can imagine there are HEAPS of prizes to be won but before all that, join us on our incredible inspiration hop where the talented girls from our teams share different ways you can combine our products.
HAPPY VALENTINE'S DAY!

With it being Valentine's Day, of course the theme has an element of love... whether it be friendships, a thank you or even a romantic kiss in Paris... you are sure to feel the love all round.
In all other cases, here is the project I have to show you today :):
Since the theme of the joint release is Love in Paris I have used these gorgeous papers from a paper pad by
Glitz Design called French Kiss
. I really wanted to use the pretty paper with the eiffel tower so, while Zoe made these gorgeous background images there really wasn't any room left to use them. The lovely little diva is called Agent Eclair and she will be available at
Little Miss Muffet Stamps
. The sentiment is by Whimsy Stamps and is from another gorgeous set by the fabulous Ann from Raindrop Echo Designs and it is named
The Fanciful Birthday Notables 1
, the matching die was released a while back and you can find that
HERE
(there are actually two different dies you can choose from for these stamps). I placed the cut out sentiment on a matching chipboard shape that was created by Zoe from
Make it Crafty
, now these chipboard shapes actually come with a window so I could have also placed the sentiment under the chipboard shape but I liked it better this way. I have to tell you, I'm not into chipboard that much but when these arrived it was instant love. They are all very detailed and very easy to use, when you have a set of the Notables you NEED the matching chipboard shapes, fabulous job Zoe!! The flowers and ribbon are all
Wild Orchid Crafts
. And the card was finished with some bandage, distress ink, distress paint, pearls, liquid pearls and stickles.
This is a close up of Agent Eclair, as always colored with my Copic Markers and 3D paper pieced. Oh... and about the paper piecing, if you are finished with the hop you might want to check out the
Copic Marker Europe blog
because I have a new 3D paper piecing tutorial up there today.
And a close up of the pretty sentiment and chipboard shape. As you can see the shape was painted with picked fence distress crackle paint.
And finally.... the little pieces that Agent Eclair was made of.

Oh and I have a little something I'd like to point out to you by the way, how do you like this: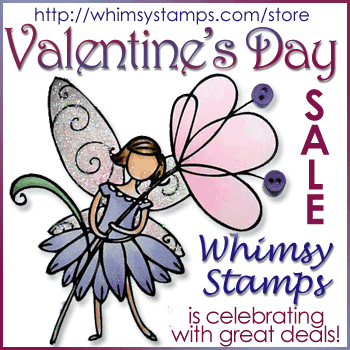 50% of all Whimsy digi's and
Shape EZ digi SVG cut files
.... now that's a nice deal right!!!? Click on the button to go to the Whimsy store... but after you finish the hop of course!!
Hope you like my project... now on with the details of the hop!:
PRIZES, SURPISES and A CHALLENGE!!

Make sure you comment along the way for a chance at winning a few extra goodies and once you reach the end, we'll share all the details on the prizes you can win and we even have a fun challenge you can enter which could win you a feature in the upcoming Whimsy Magazine! Wooohoo!
Did we just hear you scream?


"I LOVE THESE PRODUCTS AND I WANT THEM NOW!"
So where to next you ask??
JUMP on over to my new friend
VIV!